This project was inspired by a wild idea from a 3 year old girl who wanted "a knife to sleep with…"
While this knife should be unmistakable, it should also be unmistakably a toy, and of course, no sharp edges. With those requirements in mind, I felt the best solution was to scale up the knife to a larger-than-life size. This would both suggest a more playful cartoon violence and also make the knife slightly unwieldy – especially for a young child with small hands.
I designed the parts and construction of the knife based on a real knife with two rivets to hold the wooden handles to the blade. I used heavy interfacing on the blade and the inner surface of each handle piece. This, in addition to tightly packed polyfil, and a hand stiched blade helped the knife keep its "edge" while still making it a soft play toy.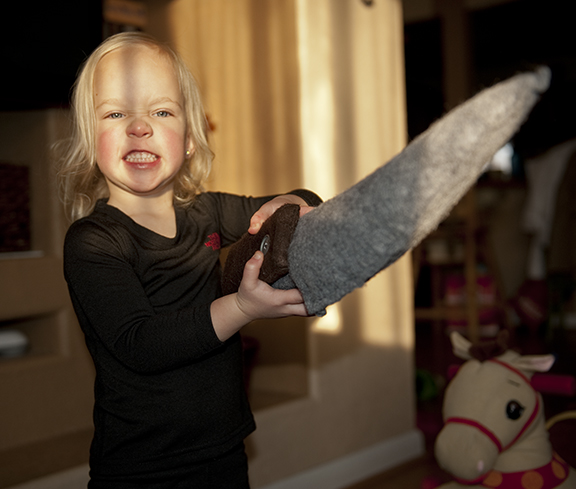 The buttons that act as the handle rivets are made of actual metal. The tactile contrast between these and the soft warm felt of the rest of the components suggests the feeling of a real steel blade in the hand.
The design process: